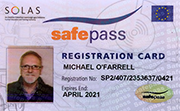 Michael O'Farrell Photography practises and conforms to all required Health & Safety regulations.
I am at all times responsible for ensuring that Health & Safety standards are applied to ensure the safety of others while on-site or on location.
I hold a Safe Pass, having taken part in the Solas Safe Pass, Health and Safety Awareness Training Programme, which enables me to work on construction sites without being a risk to myself or others.
I prepare a Safety Statement for all projects on location.

All equipment, goods or materials used by me in the course of providing services comply with all relevant Health & Safety Standards.